PALLAVA BEACH
Located in Mahabalipuram, PALLAVA BEACH is a fast developing and preferred second home destination. PALLAVA BEACH is Chennai's most sought-after leisure real estate space. Imagine the extraordinary benefits, property appreciation and the singular distinction of owning your own piece of heaven, right on ECR, near the famous Shore Temple & Archeological marvel of Mahabalipuram. Tree lined avenue, private beach access, round the clock security with access controlled entry and exit are just some of the distinctive features of this exclusive community.
45 minutes drive from the airport
Adjoining the picturesque Mahabalipuram coast
Close to Chennai's IT corridor
Pollution free and nature friendly environment.
Investor's paradise
Has every promise of becoming a one of its kind neighbourhood in Chennai.
ENTRANCE - a grand single large entrance pavilion with gate.
SECURITY - a high rise compound wall covering the entire layout and 24 hours security with access control.
AMBIENCE - landscaped garden, avenue trees and shurbs are planted on either side of the road in addition to the natural greenery available in plenty.
STREET LIGHTS & ROAD - decorated modern street lights & well laid road.
How to get there
Its just a 45min drive from the Chennai Airport, and it is located in the east coast Road adjoining the manabalipuram coast




6 VILLA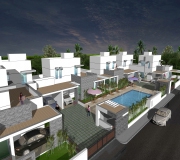 Private beach access | Fully Compounded fencing with Security Camera
8 VILLA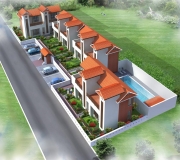 Private beach access | Fully Compounded fencing with Security CamerasWell Laid motorable road | Lit street Lights | Avenue Trees with irrigation | 24 Hours Security.&nb